Humboldt County Mental Health Services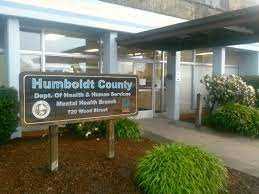 Credit: Humboldt County Mental Health Services
Description
Please visit Humboldt County Mental Health Services's website or call them to confirm the hours of operation and/or services listed on this website are still available.
Services:
24-hour Crisis Services
Adult Behavioral Health Services
Assisted Outpatient Treatment (AOT)
Behavioral Health Board
Behavioral Health Quality Improvement
Children's Behavioral Health Services
Community Corrections Resource Center
County Behavioral Health Triage Services
Crisis Stabilization Unit
Cultural Responsiveness Committee
Hope Center
Mental Health Services Act (MHSA)
Mobile Response Team
Organizational Provider Resources
Patients' Rights Advocacy Services
Sempervirens Psychiatric Health Facility
Substance Use Disorder Treatment Services
Counties served: Humboldt
Attention!
The description above may have been submitted by the facilities manager at Humboldt County Mental Health Services or by a user contributor like you. If you are aware of any copyright infringement, please contact us.
Questions & Answers
Help others like you find out more about Humboldt County Mental Health Services. Do you know the answers to any of these questions? Contribute now and help others like you.
Q. Is this facility really free?